Advocacy Education Session - 04-04-2023
Advocacy Education Session - 04-04-2023
Tuesday, April 4, 2023 (12:30 PM - 2:30 PM) (CDT)
Description

Learn more about the topics which make up the Greater Wausau Chamber of Commerce's Legislative Agenda. The Chamber follows this agenda, set by the organization's Business Advocacy Committee, for all advocacy-related activities and initiatives. The topics included in the current agenda include workforce development, economic development, regulatory reform and taxation.
The speakers at this event will offer insights on legislative efforts related to business at the national (U.S. Chamber), state (Wisconsin Manufacturers & Commerce) and local levels.
Presenters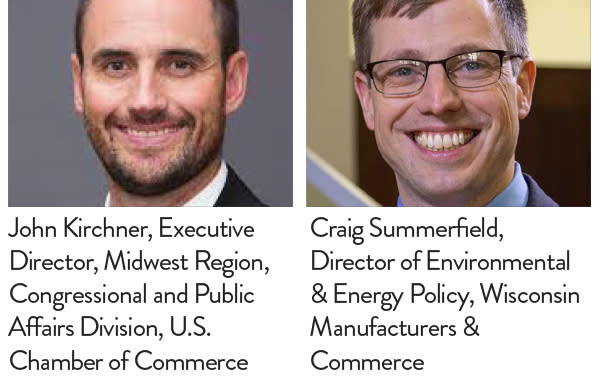 John Kirchner of the U.S. Chamber of Commerce helps develop and implement their grassroots, legislative and political activities in the upper midwest. In addition, he works closely with state and local chambers, as well as with members of Congress in his region.
Craig Summerfield spent nearly 15 years working in the Wisconsin State Legislature, including time as a policy advisor in the Assembly Speaker's office and as chief of staff in the State Senate.
Dave Eckmann of the Greater Wausau Chamber of Commerce's Business Advocacy Committee will provide a local perspective. This committee actively works to execute the Chamber's Legislative Agenda within the community.
---
The Advocacy Education Session is the first program of the Business Month 2023!
Here is a list of the Business Month Events:
---
Media Release: The Greater Wausau Chamber of Commerce reserves the right to use any photographs or video taken at any program or event sponsored by the Chamber, without the expressed written permission of those included within the photographs or video. The Greater Wausau Chamber of Commerce may use the photographs or video in publications or other marketing materials produced, used or contracted by the Chamber.
Images
Pricing
Admission - Free for members of the Greater Wausau Chamber of Commerce
Not sure if you're a member? If your employer is listed in our directory, they're a member investor, which means you're a member. Please contact us at (715) 845-6231 or info@wausauchamber.com to get your website credentials to receive member pricing.
UW Center for Civic Engagement - UWSP at Wausau
625 Stewart Ave



Wausau

,

WI

54401

United States



Tuesday, April 4, 2023 (12:30 PM - 2:30 PM) (CDT)
12:30 pm – Check-In & Networking 1 pm – 2:30 pm - Advocacy Education Session